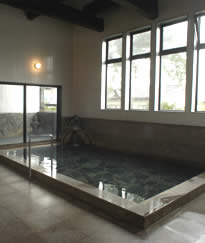 Juro No-Yu is ten minutes walk from Kamishiro station. This onsen is open 24 hours a day from December to March, 10AM-10PM the rest of the year. Closed on the 2nd Tuesday of every month. There are a variety of baths to try. The water is clear and has a mild mineral content which includes sodium chloride, great for toning your skin. Enjoy the piping hot mineral waters in the inside and outside baths while looking out over the snow capped mountains. When your skin starts shrivelling up, dry off and head to the lounge to kick back on the tatami and watch TV or dig into a steaming bowl of tempura soba. Sauna, lockers provided. ¥500/¥400 for adults/children for 2 hours bathing. Meals around ¥1000. +81 261-71-8160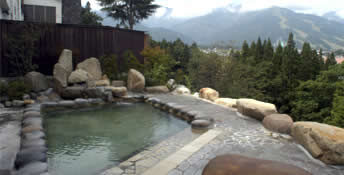 Tenjin No-Yu is a part of the Hakuba Himekawa onsen and only 15 minutes walk from Hakuba station on the east side of the Oito train line. Enjoy the satisfying views of the Alps while you bath in the sodium chloride rich water. Tenjin No-Yu offers great views of the mountains from both indoor and outdoor baths.This is probably the best onsen in Hakuba from which to see the Alps. We recommend you relax with a group of friends here.Open 9AM-10PM. Closed Tuesdays. Recommended by locals for its healing waters. Lockers available. ¥500. PH: +81 261-72-3450

Hakuba Ryujin Obuya onsen is very new, opening recently 2007. It is located in the Goryu area, and is designed in traditional Japanese layout. There are several different baths, including indoor baths and outside rotenburo baths. The rich mineral water has many health benefits.
Take no yu - information soon!
Mimizuku-noyu onsen is one of the four public baths at the Hakuba-happo onsen. The mineral water at this bath is alkaline, which eases sore muscles and is deeply cleansing. This bath allows you to sit in the comfort of indoors, whilst admiring the views of the mountains through the large windows.
The building and the onsen itself at Daini Sato No-Yu are in a unique hexagon shape. The fresh wooden (Japanese Cypress) smell and smooth wooden surfaces of the onsen give it a comforting warmth. Near Happo Daisan Parking Lot.
Daiichi Sato No-Yu onsen is made of Teppei rock (indigenous to Nagano Prefecture). and is conveniently located near the Happo Ryokan area and the Alpico Bus Center.
Between Happo and Sarukura you will find a large rock that marks the open-air-spa setting for Obinata No-Yu. While relaxing in the Onsen you can hear mountain torrents and see the beautiful natural scenery of the Northern Alps - it'll make you feel like you're in a different world. Download/view an onsen video clip of Obinata no yu
Echoland no yu opens through the year, located at the front of Echoland. Available is a rotenburo (outside bath) and a sauna bath.
Garden no Yu is located in the large Green Valley complex. The effects of the salty-brown water at this onsen are plentiful. For the last 250,000,000 years Fosa Magna has been building up in the air and water at this onsen giving it its unique color. Sodium, chlorine and carbonated salt water give this onsen a uniquely high salt content that is good for your entire body. Garden no-yu is probably one of the best onsen places to relax.
Iwatake No-Yu is located near the Iwatake Ski Resort where you can mountain bike, summer ski or camp in the summer, this is a popular place. Inside you will find a sauna and resting (lounges) along with a newly completed coin laundry
Another popular onsen is Kurashita-noyu onsen, one of the four Hakuba Shionomichi onsen This onsen is located near Matsukawa River Park and has spectacular views of the mountains. There is a open-air-bath open feeling here that can heal your tiredness from a hard day of work or play.
Renge Spa is only open for around 4-5 months a year. Back country and nordic skiiers often like to make their way here in the late winter or early spring.
Hakuba Yari onsen is located at a route for mountain climbing with 2,500 meters high above sea level. See the video